The School of Nursing Student Financial Services has compiled a list of resources for students seeking methods to repay their nursing education debt. One of the great things about being a nurse is that nurses have multiple loan forgiveness/repayment assistance options available to them. Although the number of options offered will depend upon each student's unique situation, eligibility factors include geographic location, level of indebtedness, income, and/or in some instances nursing specialty.

Any questions, contact the Student Financial Aid Services office .
Nursing Loan Forgiveness/Repayment Assistance
Student Financial Services has assembled a list of states and federal agencies that offer loan forgiveness/repayment assistance to nurses for their nursing debt. Students are encouraged to review the list and browse the respective website(s) of the administering state or agency. Students can verify if their state has a program by searching that state's name along with "nurse loan repayment assistance". Most federal loan forgiveness/repayment assistance programs have a work obligation. Please contact the agency for more information.
Employers Loan Repayment Assistance
An employer may offer loan repayment assistance as a part of their benefits package. We encourage students to inquire with their employer or potential employer if loan repayment assistance is available. Employers that do not have a high number of job applicants are more likely to offer loan repayment assistance as an enticement to job seekers. Employers in this category will typically be in rural/isolated areas. Irrespective of that, we still encourage students to inquire about loan repayment assistance options with their current or potential employer.
Public Service Loan Forgiveness (PSLF)
The PSLF Program forgives the remaining balance on your Direct Loans after you have made 120 qualifying monthly payments under a qualifying repayment plan while working full-time for a qualifying employer. For more information on the PSLF program we recommend that students review the details here and also contact their respective lender.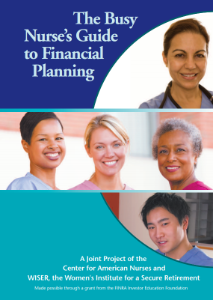 To help nurses with their financial well-being, take a look at The Busy Nursing Guide to Financial Planning
The guide offers helpful tips and strategies to ensure your financial wellness.